Cycle tour, discover Puglia on bicycle
Traveling by bike to discover Valle d'Itria and Salento with Discoverent is simple!
13 June 2019 |
Traveling with Discoverent
It seems that Discoverent love every two wheels! After our motorcycle tour to discover the most evocative areas of all Puglia, from the Gargano to Lecce, we decided to surprise you with another experience even more fun and interesting: a bicycle tour!
Whether you are a bicycle enthusiast or just a lover of nature and outdoor sports, but always with a touch of adventure, the Discoverent Cycle Tour in partnership with Apulia on Bicycle is a candidate to become your best ever experience.
A wonderful and exciting adventure, full days in contact with nature, fascinating places and finally my girlfriend and I visited Alberobello!

Marco, roman biker
Rent the motorbike you prefer with Discoverent, get to the starting point, get on your bicycle and leave for the Cycle Tour!
ALL INCLUSIVE DISCOVERENT BIKE TOUR
Local tour leader
Preset routes
Helmet + Under Helmet
Water bottle
Fitobios integrators homage
Accident insurance
Costant assistance
City bike
You can even choose between Valle d'Itria and Salento, two wonderful destinations that include crystal clear seas and Unesco World Heritage as far as the eye can see: from Alberobello to Lecce, from Polignano a Mare to Selva di Fasano, passing through Putignano (the famous city of the carnival), Otranto and Savelletri.
Can't choose?
We show you the paths, let yourself be guided by your adventurous heart!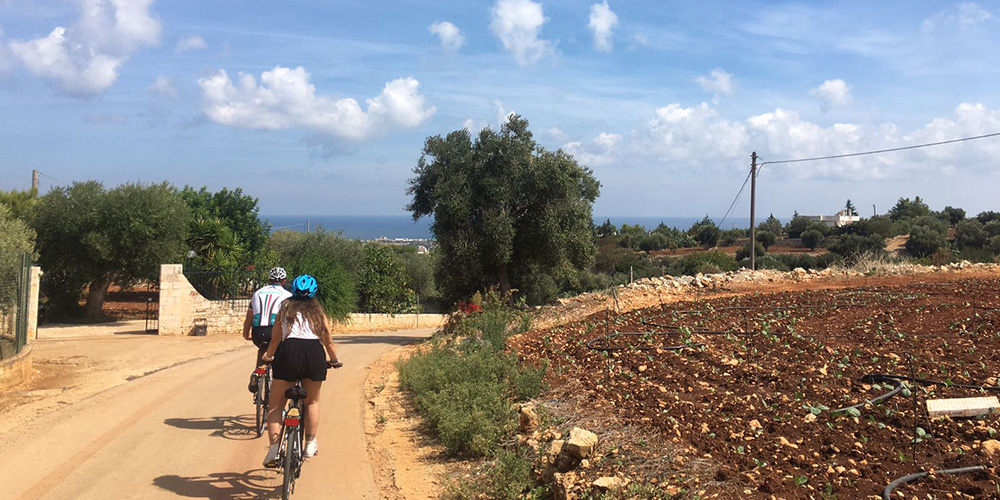 Bicycle Tour in Valle d'Itria
Different itineraries for the whole Valle d'Itria are waiting for you, our Discoverent Team in partnership with Apulia on Bike has prepared different stages and different tour options ranging from a single day to a longer bycicle tour. Let's find out together!
A ride of only 50 km that always starts and ends in Monopoli, walking among the most characteristic countryside and cities that you can choose.
Discoverent loves Puglia and wants you to fall in love with it too, but always in the bike saddle!
Route 1
Departure from Monopoli, where we will leave our Discoverent motorcycles and then pick them up again to head to Correggia, Alberobello (UNESCO Heritage), Santa Lucia, Gorgofreddo and then return to Monopoli.
Route 2
From Monopoli, pass through Castellana Grotte with its breathtaking karst landscape, Conversano, the beautiful Polignano a Mare and return to Monopoli.

Route 3
After Monopoli, you will cross the beaches of Capitolo, the crystal clear waters of Savelletri, and then take a look at the excavations of Egnazia and finally return to Monopoli.
Route 4
Usually starting point Monopoli, you will pass by Castellana Grotte, the famous Putignano, Noci and then return to Monopoli.
Route 5
Start in Monopoli, as always, to get to the Sanctuary of Maria della Vetrana, the suggestive Grotta del Trullo in Putignano and a long nature ride to finally reach Monopoli.
Cycle Tour in Salento
How much did you hear about Salento? How much do you want to visit places of timeless charm? The Discoverent bike tour in Salento is the right occasion!
As one of the Itria Valley, also the Salento bicycle tour includes an itinerary of 50 km, different types of path, depending on the goals that interest you most, for a total of 5 days.
Let's go!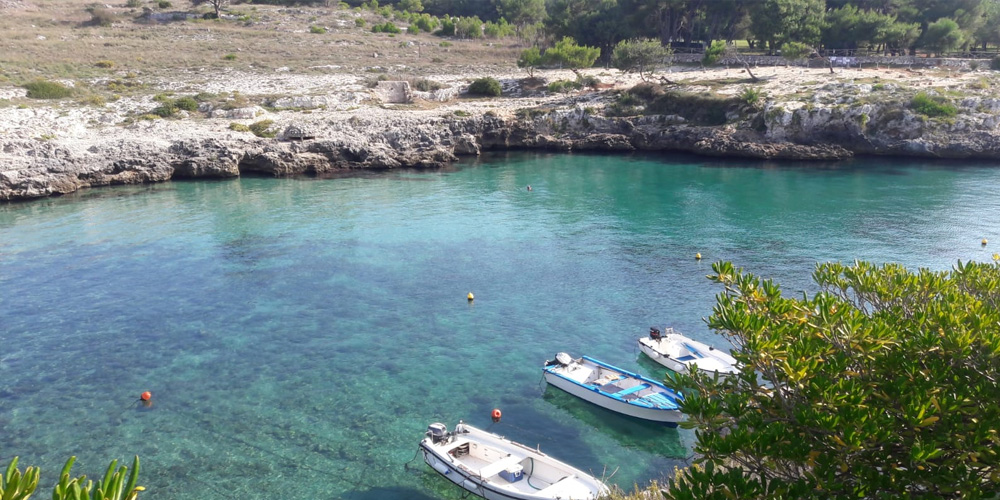 Route 1
Once arrived in Santa Cesarea Terme, leaving point where we will leave the motorbikes rented with Discoverent, we will leave for the town of Castro, passing then to Tricase and its port, Andrano and return to Santa Cesarea Terme.
Route 2
Departure from Santa Cesarea Terme, then passing by Uggiano, the beautiful Otranto, the seaside town of Alimini and the incomparable Porto Badisco, to then return to Santa Cesarea Terme.
Route 3
Leaving from Santa Cesarea Terme, you will pass by the picturesque Porto Badisco, the beautiful Castro and Vignacastrisi, and then return to Santa Cesarea Terme.
So, did we convince you that the best vacation you can take is a Discoverent cycle tour?