Cooking Class Day: Apulian cooking lesson with Discoverent
Motorcycle tour and Apulian cuisine, the original union of Discoverent and Masseria Montenapoleone
7 June 2019 |
Holiday in Puglia and motorbike tour, ask Discoverent!
4 million tourists in Puglia in 2018
The summer is officially back: despite the prolonged bad weather, the sun made its shrewd move and here it is, to set fire to the streets. Are you ready with your motocycle to furrow still unknown paradises?
Yes, let's not fool ourselves, for real bikers like us at Discoverent, there is no difference between the seasons, every moment is the right one to rent a motorcycle and go on an adventure, but summer has that taste of vacation, freedom and carefree that no other season has .
This is why the Discoverent team has thought of a perfect motorcycle tour for your summer, but also for your eyes: The motorcycle tour of Puglia, from south to north riding the best motorcycles of all to learn about beaches, towns and traditions of Puglia with unique charm.
DAY
DESTINATION
day 1
Bari
day 2
Trani, Castel del Monte,
Margherita di savoia, Mattinata
day 3
Baia delle Zagare, Pugnochiuso,
Vieste, Peschici, Foresta Umbra, Lesina
day 4
Cerignola, Minervino Murge, Spinazzola,
Gravina di Puglia, Altamura, Matera
day 5
Gioia del Colle, Taranto, Grottaglie,
Manduria, Lecce
day 6
Otranto, Santa Maria di Leuca,
Gallipoli, Ostuni
day 7
Cisternino, Martina Franca, Locorotondo,
Alberobello, Savelletri
day 8
Castellana, Monopoli, Polignano a Mare,
Bari
Discoverent motorcycle tour

Motorcycle tour in Puglia, from Lesina to Lecce on Discoverent motorcycles
Puglia, an incredible land, now famous throughout the worl, full of history but also of traditions, above all culinary.
An 8-day trip in which we will learn about the wonders that the Italian heel offers us, all you have to do is rent a motorcycle with Discoverent and leave!
You will pass through beautiful cities by the sea, such as Trani with its Romanesque Cathedral and its coasts, for Castel del Monte, a UNESCO World Heritage site, for Baia delle Zagare and Pugnochiuso, places where the blue of the sea merges with that of the sky, a dive in uncontaminated and luxuriant nature, to arrive in Matera, Capital of Culture 2019 and home of the Sassi of Matera, ending up in Lecce, a Baroque stronghold of sensational beauty.
These are just some of the destinations planned for the Discoverent motorcycle tour. But our team has prepared Experiences that will allow you to fully enter the Apulian culture, especially in the Apulian cuisine, the real one.
Have you ever heard of Cooking Class?
Apulian Cooking Lesson, a Cooking Class in the heart of Puglia
A Cooking Class is nothing more than a short cooking class in which professionals of the sector make their knowledge and their skills available to teach members all the secrets of one or more preparations.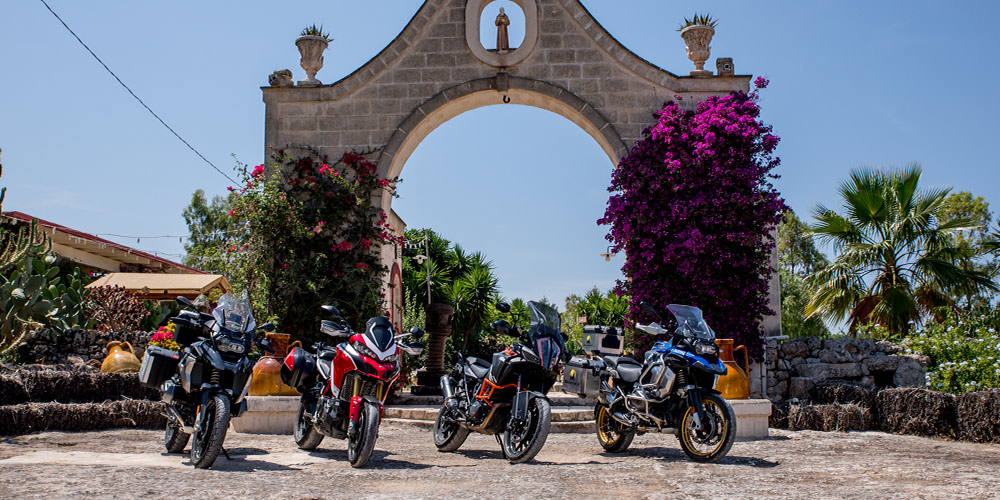 The "Grain experience" Cooking Class, included in the Discoverent motorcycle tour, focuses on the Apulian cuisine, in particular on fresh pasta, and is held by the farmer Giuliano at the Masseria Montenapoleone (BR).
During the Apulian cooking course held at Masseria Montenapoleone, in the exclusive scenario of Pezze di Greco (BR), the participants will put, as they say, their hands in pastry: with the help of the farmer Giuliano you will learn to prepare the dough with semolina, flour, water and salt for the famous orecchiette, cavatelli and strascinate.

Among stories, anecdotes and a small wine tasting, the farmer Giuliano will teach you every secret and every trick to be able to make fresh Apulian pasta at home.
After the brief Apulian cooking lesson, if you want, you can also participate in a lunch (or dinner, depending on the slot you choose) during which you can taste traditional Apulian cuisine, typical local products and delicacies directly from the fields of the Masseria Montenapoleone.
Discoverent and its motorcycle tour are going to let you experience the most thrilling experience ever, 8 days riding the most beautiful motorcycle and discovering Puglia, a warm region, with good food and incredible scenery.