Discovering Puglia on a Vespa becomes reality with Discoverent!
Discovering Puglia with the Primavera 125 and GTS 300 models, two different Vespa concepts
22 May 2020 |
From 1946 to today, the Vespa continues to charm millions of people. After having motorized Italy, year after year, it has accompanied generations of Vespa riders on the roads all over the world. For many motorcyclists it was the first two-wheeled vehicle but above all a way to escape from routine and experience freedom, especially during youth.Thus, the Discoverent fleet would not be complete without the Vespa, much more than a simple scooter, if the best synonym of the word scooter itself. Discovering Puglia on a Vespa is a magical and one of a kind experience because it is fun and exciting at the same time.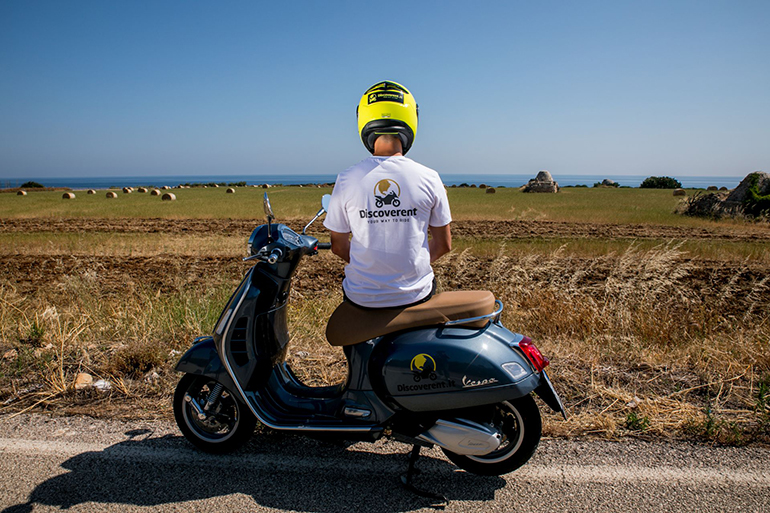 Like "Slow Food" in culinary art, experiencing the Apulian roads on a Vespa allows you to savor every kilometer on the road, nice and slow (compared to a large-displacement motorcycle).Discoverent offers two types of Vespa so to satisfy everyone's needs. The agile Piaggio Vespa 125 Primavera , which can also be driven even if you only possess a B license, is available for rent.Furthermore, for all those looking for a vehicle that is easy to use, but also agile and capable of taking on short journeys in complete tranquility, the largest and most powerful Piaggio Vespa 300 GTS, whose acronym stands for Granturismo Sport, is available at Discoverent. Two concepts that more than any other summarize the characteristics of this vehicle. Both the Vespa Primavera 125 and the Vespa GTS 300 are rentable only in the unlimited kilometers plan because the pleasure of traveling on a Vespa on the streets of Puglia must be discerned from the anxiety that only limits can give.